From Maya Moon Lodge's private dock it is just a five minute boat ride or a twenty minute walk to the village of San Marcos La Laguna. Here you will find small shops, fruit stands, several restaurants, and numerous holistic treatments.
We can help arrange yoga lessons for our guests, simply ask reception. We highly recommend Doron and his yoga teachers, which is in Tzununa. For more information visit www.doronyoga.com
Reception can arrange for a masseur to come to your room, Alicia from Tzununá is a very good masseur highly trained in 4 types of massage, she costs 350q for 1 hour or 450q for 90 minutes. She will set up her massage table in your room, making it a very relaxing experience. Reception will book the massage for you and give you more information.
Massage and Reiki session
Nearby masseurs and therapists ; There are many different masseurs and holistic therapists in San Marcos, be discerning in your choices, here are a few we highly recommend:
The Holistic Cottage
The Holistic Cottage, run by Katherine Bird in San Marcos, is a great place to get a massage, receive therapy, and take holistic treatment courses.
Katherine is a long term therapist in San Marcos and is committed to the ideals that inspired the creation of the Holistic Center. The founding principle was that nobody should ever hear that there is "nothing more that we can do" when it comes to your health. There are always alternative therapies that can help when you get sick, and more importantly, prevent you from becoming ill. Katherine dedicates her time to helping and teaching people how to relax, and re-balance their body, mind, and spirit. She specializes in Full Body Massage, Indian Head Massage, Creative Energy Work, Reiki, Kinesiology, and teaching courses in holistic therapies. Teaching is an integral part of her work as she believes in empowering each individual to take charge of their own lives, and specifically, their health.
For more information call The Holistic Cottage at +502 3183-7662, or find them on Facebook. You can also pass by the Holistic Cottage any time and write your name down for that day for a massage by Katherine.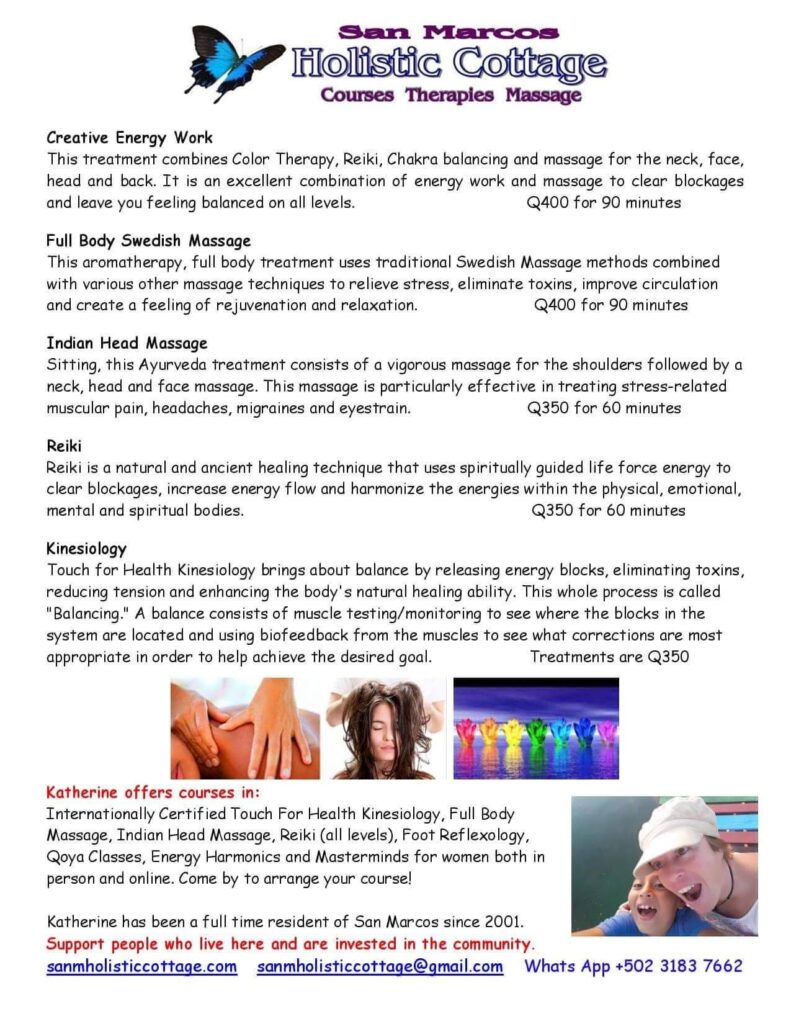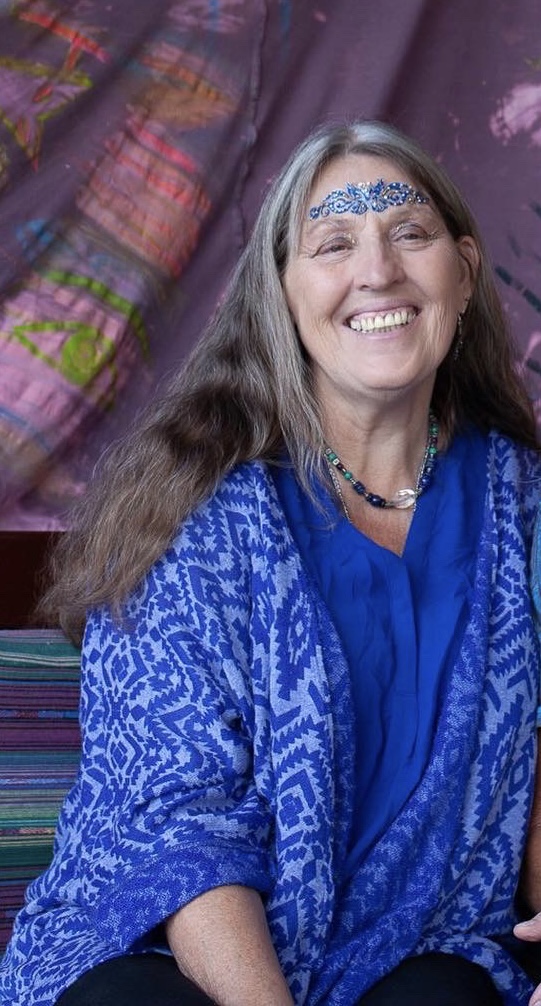 Merrill Storm is a Renowned Crystal Theta and Medical Intuitive.
She has been a long term resident of San Marcos for 14 years, originally from South Africa
Highly recommended – Contact her for further information and to book a session
Her session are 3 – 5 hours – A Soul Reading is 3 hours and full session 5/6 hours.
Merrill offers Crystal Readings and Healing Sessions
Cost varies depending on needs of the client From 350q to 2500q ( USA dollar payments accepted)
Merrill and her husband Neil sell magnificent crystals from around the world.
Merrill also offers ;
The Khephera Advanced Crystal Healing Course : The Art of Reinventing Yourself.
Created by Merrill Storm who is a Renowned Crystal Theta and Medical Intuitive.
Contact Merrill to book a life changing session at ;
[email protected] Neil Merrill Storm – Facebook Whatsapp – +502 3746 3247
Myshelle Eilleen – Tarot and Guidance Sessions